Chef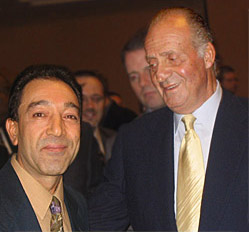 More than 45 years ago, I began preparing food for others in Barcelona as a cook in the Spanish Army. During my service, I had the privilege of cooking for the King of Spain, the French and Spanish Ministers of Defense, and their staffs. During His and Her Majesty's visit to Seattle in 2004, I recalled the occasion with him during a gala luncheon in his honor.
After leaving the Army I began working all over Spain and in Great Britain , mostly in French and Italian restaurants. I came to the US in 1978, where I worked with the Royal Caribbean Cruise Line throughout Central and South America, and after that, in Miami with Master Spanish Chef Tony Piedra. I also worked in California before moving to Seattle in 1993 and opening Pomodoro in 1995. In 1998 during President Clinton's visit to Seattle, I cooked for him and his entourage. In 2002, my peers flattered me with the Chefs' Choice of the Year Award. In 2005, The Food Network solicited me to compete in the Iron Chef America Show, which I had to decline.
I've always found my own twist on classic dishes, a new version of old recipes. If an Asian flavor works with a Mediterranean dish, I don't hesitate to use it. I resist barriers or pigeonholes, but if I had to name my approach, I'd call it "neo-traditional." My guiding principle is to emphasize the primary flavors of the main ingredient in a dish. Sometimes, however, I use the main ingredient to carry contrasting flavors. Most dishes I create are not bold but balanced and restrained with layers of depth. Cooking is all about manipulation and control and is rarely simple; if it were, anyone could do it well. I find "simplicity," as fashionable as it is these days, to be little more than a cliché of the culinary press.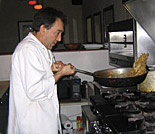 I think food, I breathe food, and I dream food. I'm constantly exploring and improvising-juicing and mixing fruits and vegetables for sauces, smoking my herbs and spices, working with colors, creating oils and pastes beautiful to the eye and the palate. Everything at Pomodoro--oils, sauces, and broths-is made from scratch. Many of the steps I take are not apparent to the diner, from the way I preserve the wildness and freshness of my meat and fish, to the organic and natural ingredients not listed on the menu. I don't take anything for granted as I consider all aspects of each ingredient of the dishes I serve. I love to please the discriminating tastes of my beautiful customers. My commitment to quality at every stage is your guarantee of fine dining. Buon gusto! Buen provecho! Enjoy!
Pomodoro wishes to thank Eric Swenson (writer, historian and former UW English professor) for logo creation and Chef's bio editing. All abstract banner art is based on Chef Antolin' sauces and oils and it was conceptualized and created by Chef Antolin in cooperation with Sid Fox who also created our video.